The Gordons – 1974 through 2010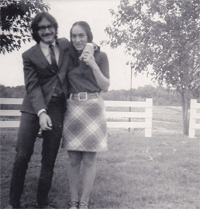 Hi, we're Gary and Roberta Gordon and we grew up in Southern Illinois; pretty well grew up that is, we were 14 when we met and married at 17 making our home and musical life together in Gary's county, Randolph.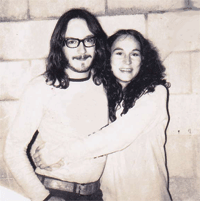 At the age of reason, I Roberta, had found I could sing when Sister Alicia told me I had a pretty voice and Gary found music singing in the field with his father. When we met, one love and one vision helped us unknowingly chart the course of our life together. Gary bought an autoharp our first Christmas together (I thought the package weighted with bricks was a sewing machine) and the journey began. With a handful of songs we knew, and "Baby Noah" in the back seat, we took our music out right away, passing the hat several times a week in neighboring towns. People loved to see us walk in with big cowboy hats and that precious little boy carrying a mandolin. We became folklore in a circle that spread wider each year and passing the hat turned to good solid pay!
"Southern Illinois Bluegrass"

Original LP released 1976
Crusade Studios, Flora, IL

CD re-released 2000
Reception Records, Carbondale, IL
Good players in little places seek each other and by 1974, a wonderful cast of band mates had joined us. Together we found youthful, rip-roaring fun in front of large followings, love of each other, and the music, on the road. The '70s took "The Gordons" every place they wanted to go; festivals, fairs, colleges, theaters, barbecues and bars. Those early days were documented with two self-produced LPs, both of which received national air play. "The Gordons" were also the subject of a movie documentary in 1976 through Southern Illinois University, Carbondale, IL.
"Covered Bridge"

Original LP released 1977
Crusade Studios, Flora, IL

CD re-released 2000
Reception Records, Carbondale, IL
For us, a life of music as a profession was an uncommon choice around our home in Southern Illinois. Both being children of the farm, we carved our own place. Most crafts are passed from father to son where one might have a leg up on the business. Not so for us Gordons as we created our own sounds to pave our way.
Life friend John Loyd took an interest adding us to his stable in "Shawnee Talent Agency" out of Carbondale, Illinois. Bookings were constant in those days and as the 1970's raged in Bluegrass Renaissance "The Gordons" rode the crest of the wave. The finest University theaters, coffee houses, festivals, saloons and churches kept us busy throughout 5 states.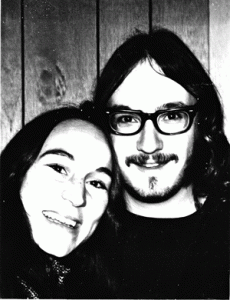 By the time we were 18 we had seen, heard and been influenced by the best music the world has yet to see again. Hendrix, The Byrds, Canned Heat, Bob Dylan, The Who, Cream, on and on……. By 1971 pop music was leaving us cold and it was time to move on to something higher. All the great music we had absorbed came out in the form of Bluegrass. We sought out the best and learned from them, Ralph Stanley, Jimmy Martin, Bill Box, and yes, regular Bill. Festival goers every weekend if we could get there, we listened to all we could get our hands on. We played our music right, every inflection & harmony note with dynamics and power fueled by timing and the incredible inventive lead work of Gordon Wilfong and Charlie Rice. The music was more important to us than the big crowds and free beer. We were pioneers with a crack band baptizing everyone we met with our enthusiasm and purity."
1980 found "The Gordons" in Charlotte, North Carolina during the city's big boom for art and music. At the beckoning of our agent John Loyd, we crossed the Smokies to develop a sizeable following, continuing to play festivals and fairs with two acclaimed performances at the Charlotte Mint Museum. Acquainting with the music scene we began working with David Johnson, an exceptional fiddle player, who, when not gigging with us, has done all the road work with Randy Travis since 1980. We packed in a lot of music in three years returning to Illinois in 1983. After the untimely passing of Roberta's father, we were home again with no regrets. That adorable little boy had grown into a fine drummer and singer so it was time to start the family band.
"The Gordons" kicked off the 1990's with the release of a wonderful electric/acoustic production with son Noah on drums that featured 3 of his first originals.
The compilation ranged from classic country to hits of
"The Byrds". Line-up included first cousin Jay Hiner,
David Johnson and fiddle great Wade Ray.
"Wasn't Born to Follow"

Original LP released 1990
Street Level Records

CD re-released 2002
Right Side Up Records
This is the family band foursome; a shot taken during the live video taping for "Hometown Sounds", a concert series at Southern Illinois University studios in Carbondale, Illinois in spring of 1991. Noah actually returned home from Nashville, Tennessee for the performance having moved in January to pursue his solo career.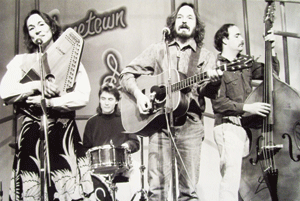 First cousin, Curtis Jay, also went on to make his mark in Nashville landing a long touring career siding for "Doug Stone". Gary and Roberta cheerfully returned to the acoustic folk scene again calling on their magnificent roster of musician friends.